On Sunday, we invited Jeff's parents to our house for some Mother's Day brunch. It was so fun to have them over, sit around our little table catching up and drinking mimosas (or "Momosas" as Jeff aptly named them). I was excited for the opportunity to host and to cook, of course, so I prepared a few plates of simple, yummy food. Not pictured: Big cups of coffee and organic chicken breakfast sausages - yum!
I missed spending the day with my mom but it was great to be with family, raising our glasses to my future mother-in-law. Hope you all had a great Mother's Day, celebrating with the mamas you love or being celebrated!
Fruit Salad with Lemon and Mint
Recipe:
(Serves 8)
4 cups of strawberries, sliced
1 quart of blueberries
2 mangoes (about 2 cups), peeled and sliced
1 large grapefruit (about 2 cups), peeled and sliced
1 lemon
1/8 cup sugar, honey, or agave (or to taste, depending on how sweet you like it!)
6 sprigs of fresh mint leaves, chopped
Mix together all of the fruit in a large bowl.
In a small bowl, mix the juice of the lemon, the sugar or honey, and the mint leaves.
Pour over the fruit and toss so that all of the sauce is equally distributed.
Cover and refrigerate for at least one hour.
Almond Flour Banana Bread with Golden Raisins
(Serves 8)
3 bananas, mashed
1 1/2 cups almond flour
4 eggs
1/4 cup applesauce
1/2 cup brown sugar
1 teaspoon vanilla
3/4 teaspoon cinnamon
1/2 teaspoon nutmeg
3/4 teaspoon baking powder
1/2 cup golden raisins
Preheat oven to 350 degrees. Grease a standard sized loaf pan.
In a large bowl, mixed bananas, flour, eggs, applesauce, brown sugar, vanilla, cinnamon, nutmeg and baking powder until fully combined. Fold in raisins (or any other mix ins you like - walnuts, chocolate chips, etc).
Pour batter into pan and bake for 50-55 minutes or until a toothpick comes out clean.
Let cool completely before removing from pan.
Mushroom and Tomato Frittata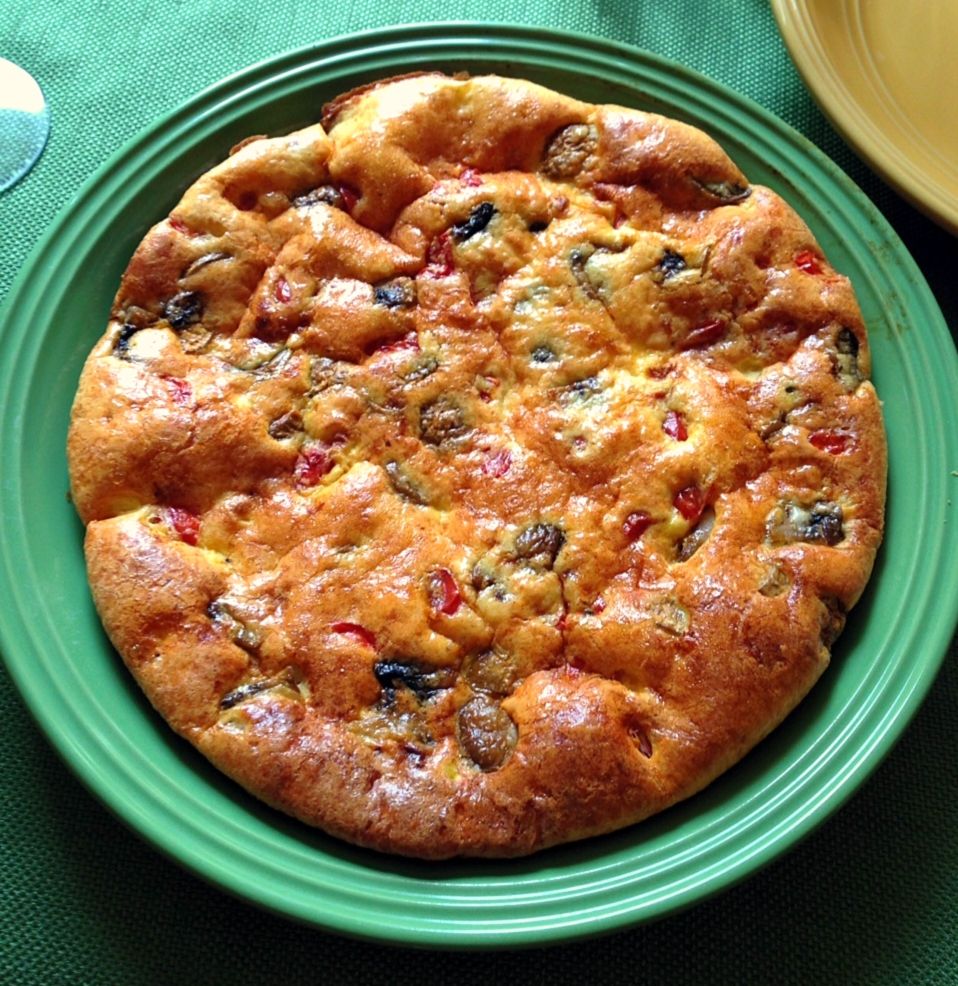 Recipe:
(Serves 4-6)
8 eggs
2 tablespoons skim milk
1/2 cup cheese (I used Parmesan)
8 ounces mushrooms, sliced
1 cup cherry tomatoes, diced
2 cloves of garlic, minced
2 tablespoons olive oil
Freshly ground pepper and onion powder to taste
Preheat oven to 400 degrees.
In a large bowl, whisk eggs, milk, cheese, pepper and onion powder until fully mixed. Set aside.
Heat olive oil in a large, oven safe skillet. Add garlic and cook for 30 seconds. Add mushrooms and tomatoes and saute until fully cooked. Spread veggies evenly in the bottom of the skillet.
Pour egg mixture evenly over vegetables in skillet. Move vegetables around so that egg mixture can seep through to the bottom.
Cook over medium heat until eggs start to set.

Bake on top shelf of oven for 12-15 minutes until the top is golden brown and a knife comes out clean.

Let stand for 5 minutes before slicing.

NOTE: If you don't have an oven safe skillet, pour mixture into baking dish before baking.