Here is an easy weekday dinner recipe that can be made so many different ways, with whatever you have laying around. I decided to go the Southwestern route, which was very tasty.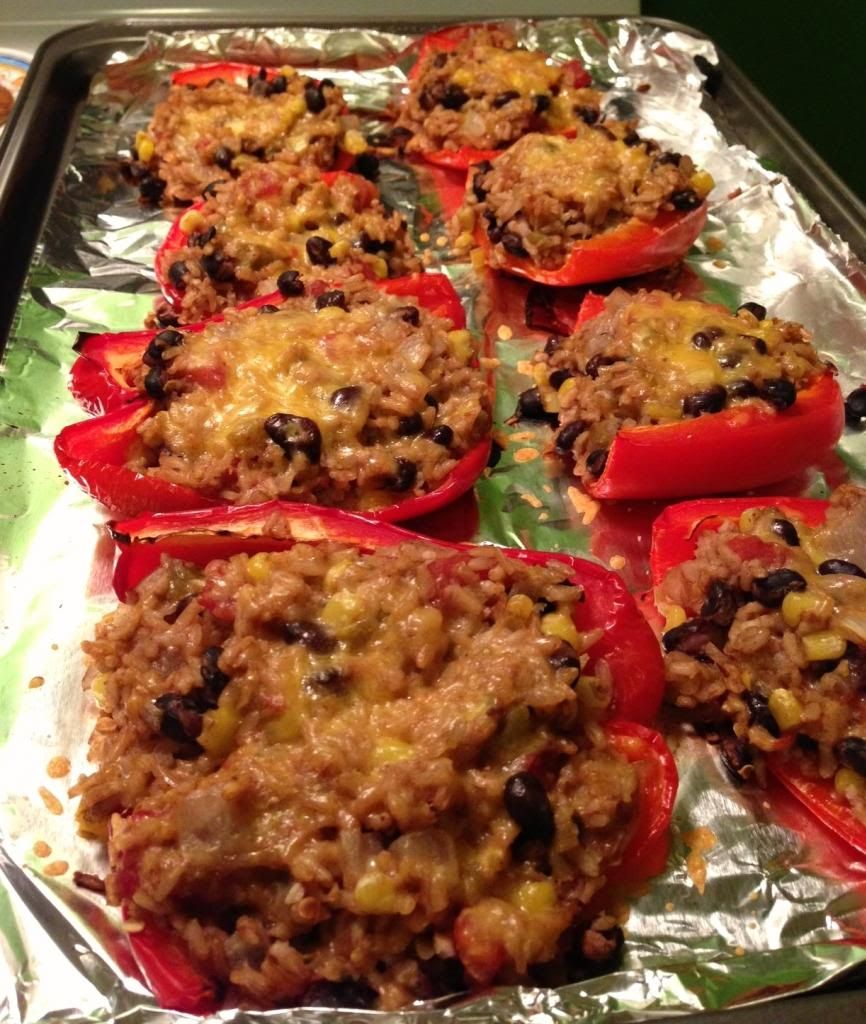 Recipe:
(Makes 4 peppers)
4 bell peppers, cut in half with the seeds removed
2 cups brown rice, cooked
1 small yellow onion, diced
2 cloves of garlic, minced
1 can reduced sodium black beans, drained
1 can reduced sodium diced tomatoes, drained
1 can diced green chiles
1 cup of corn
1/2 cup shredded sharp cheddar cheese, separated
Cayenne pepper, black pepper, salt to taste
1/2 tablespoon olive oil
1 avocado, diced (optional)
Preheat oven to 375 degrees. Cover a cookie sheet with tinfoil or parchment paper. Place peppers face down and bake for 30 minutes, or until tender.
Meanwhile, heat olive oil in a pan over medium heat and saute onion and garlic until soft and translucent.
In a large bowl, mix rice, beans, tomatoes, chiles, corn, 1/4 cup cheese, onion and garlic, and seasoning.
Remove peppers from oven and fill each half with rice and bean mixture. Sprinkle remaining cheese on top and bake for an additional 10-15 minutes or until cheese is melted and bubbly. Serve with avocado pieces on top, with a veggie or salad and chicken!
*My peppers were pretty little so I ended up with more filling than I could fit in the pepper halves. I put the additional filling in a small casserole dish, sprinkled some extra cheese on top, baked it with the peppers, and served it on the side!