This is a profound statement, I know. And I should disclaimer that I've met the best chocolate chip cookie ever, and it lives at
Levain Bakery
on the Upper East Side of Manhattan. How they make that cookie I may never know, but I dream about it and I love it a lot. The cookie that follows is the best cookie I've made, and possibly the best gluten-free cookie ever.
I've tried a bunch of different gluten-free and paleo cookie recipes and had never found one that was quite right. Frankly, while most were delicious, none of them tasted like a classic chocolate chip cookie until I stumbled upon
Meaningful Eats
. The sign of a great recipe is knowing it will be good before it comes out of the oven, and these didn't disappoint (it helped that I ate a few tablespoons of dough...to make sure it wasn't poisoned of course). When I pulled them out, they were incredibly fragrant, chewy on the outside, soft on the inside, perfectly sweet with a hint of brown butter. Best of all? They taste like normal chocolate chip cookies and are therefore amazing.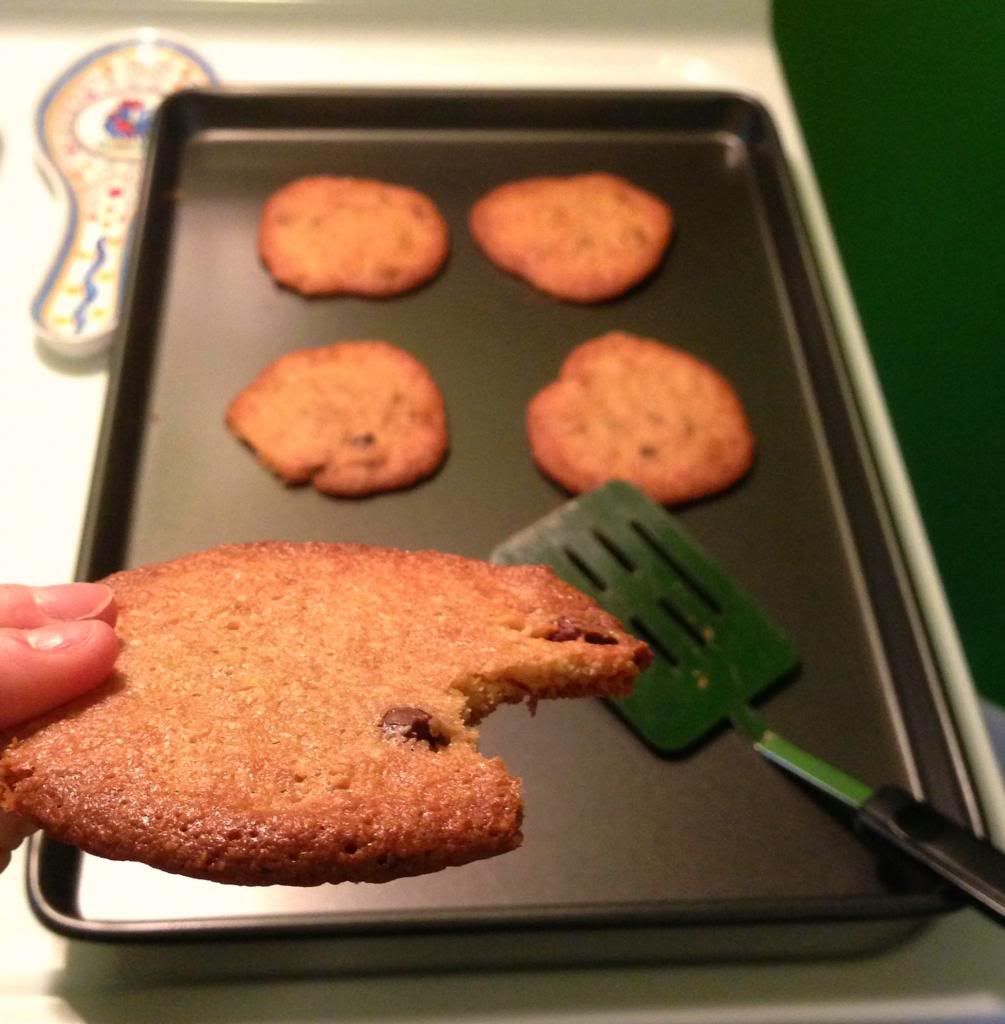 Recipe, adapted from Meaningful Eats:
(Makes 18 cookies)
1/2 cup butter, melted
1/2 cup brown sugar
1 teaspoon vanilla extract
1 large egg
1/4 teaspoon baking soda
1/8 teaspoon salt
1 1/2 cups almond flour
3/4 cup semi sweet chocolate chips
1/3 cup chopped walnuts
Preheat oven to 350 degrees. Line two cookie sheets with parchment paper; set aside. Mix together butter and brown sugar in a large bowl until creamy. Add vanilla and egg. Mix in the baking soda and salt. Mix in almond flour, 1/2 cup at a time, until well blended. Fold in the chocolate chips and walnuts.
Scoop tablespoons of dough
about two inches apart on parchment paper-lined cookie sheets. Bake approximately 10-12 minutes, rotating cookie sheets if necessary, or until golden brown around edges. Cool on the cookie sheet for a few minutes before transferring to wire racks to finish cooling.
* I haven't tried these with regular flour, but I have converted recipes using regular flour to use almond flour, and the same amounts work. Give it a shot and let me know what you think!
* These cookies are best the day they're baked as they get a little crunchier after a few hours. Still yummy, but if you're looking for a chewy, soft cookie, enjoy these on the day you make them.